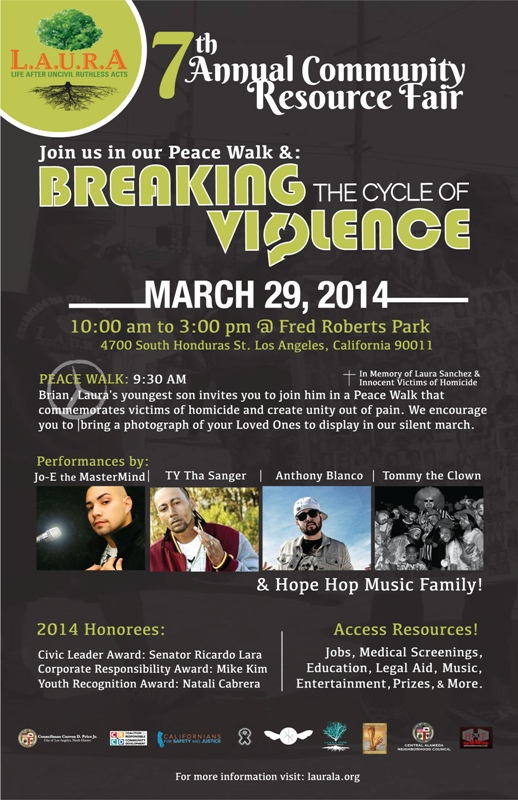 en Español
Dear Friends:
With your support we can continue to transform youth lives and work on ending the cycle of violence.  I am proud to serve as co-chair along with Yadira Hernandez in the 2014 L.A.U.R.A. Unity & Peace Resource Fair and Peace Walk, scheduled for March 29, 2014 at Fred Roberts Recreation Center.
As with any event of this magnitude lot of preparation is necessary to make each year's event bigger and better than the last. This year will be no exception. We anticipate having over 2,000 participants to attend and show their love and support for all victims of crime.
L.A.U.R.A. vision is for homicide victim's loved ones to learn to cope with the aftermath, along with other victims of crime to recover from their experience mentally, physically, emotionally, and financially, by receiving the respect, support, and protection from law enforcement, the judicial system, and the community. But we can't do it alone.
Thank you for your support and commitment to Life After Uncivil Ruthless Acts and our mission to ensure that our community heals from all acts of crime, with a positive impact on both the community and public safety in Los Angeles, to Unite and Bring Peace!
Participants: Click here to RSVP

Vendors: Click here to apply as a vendor or entertainer for the event. Click here for logistics information.

Donors: Click here to view our donation request letter.
We welcome sponsors and donations for the event. If you would like more information, please call me at (323) 816-9651.
Sincerely,
Adela Barajas, Event Co-Chair
2014 L.A.U.R.A. Unity & Peace Resource Fair + Peace Walk