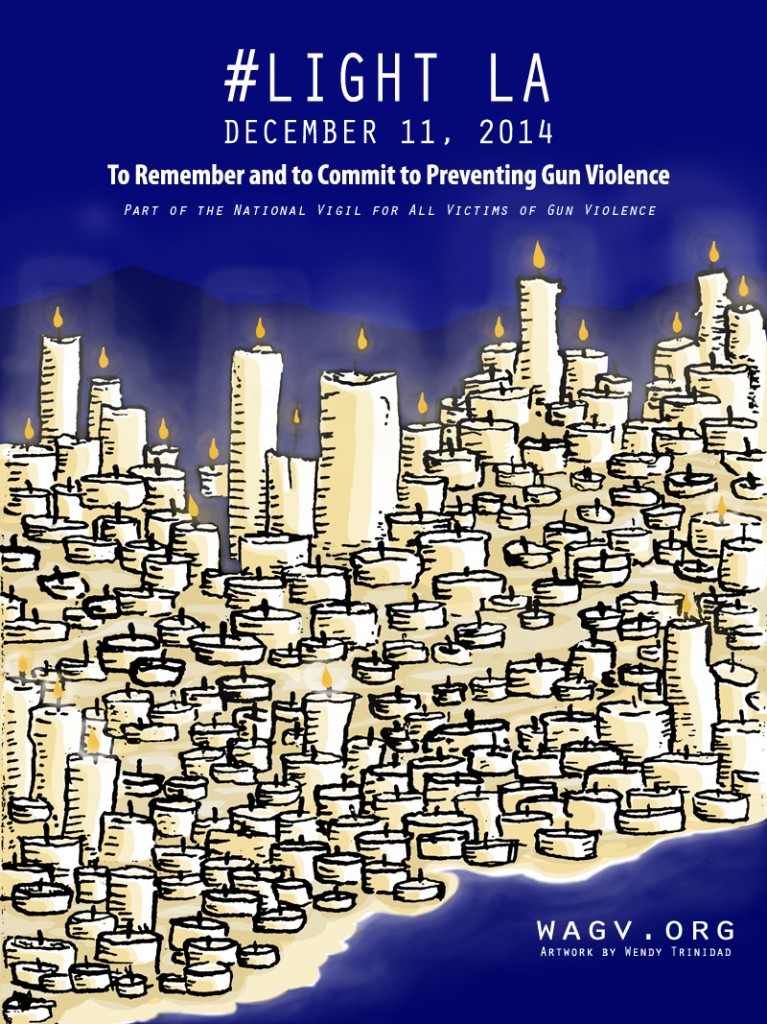 As part of the nationwide Gun Violence Memorial event being held at the National Cathedral in Washington D.C. on December 11, L.A.U.R.A., Women Against Gun Violence, Newtown Action Alliance, States United to Prevent Gun Violence, Brady Campaign local Los Angeles chapters, Violence Prevention Coalition of Greater Los Angeles, and the many other members of the Los Angeles gun violence prevention network, will join together to remember all victims of gun violence.
In Los Angeles County, individuals and communities will participate in our #LightLA campaign. On December 11 at 7 pm, individuals will place candles in their windows and communities will gather in neighborhoods, schools, and places of worship to light candles both to remember those lost to gun violence and to commit to taking action to prevent future tragedies.
PLEASE JOIN US by participating individually or by bringing together your own community. Post photos of your individual and community memorials to the Women Against Gun Violence Facebook page and to Twitter at @wagv with the hashtag #LightLA, and to commit to taking small simple steps to reduce gun violence. Action items are listed here.
For more information, to receive an organizer toolkit, or to find out where community memorials are being held in Los Angeles County, contact Women Against Gun Violence at (310) 204-2348 or visit their website.