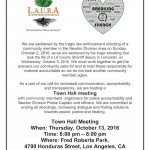 Town Hall Meeting
Thursday, October 13, 2016
6:00 pm – 8:00 pm
Fred Roberts Park
4700 Honduras Street
Los Angeles, CA
Download Flyer
We are saddened by the tragic law enforcement shooting of a community member in the Newton Division area on Sunday, October 2, 2016, as we are saddened by the tragic shooting that took the life of a LA County Sheriff deputy in Lancaster, on Wednesday, October 5, 2016. We must work together to get the answers our community asks for and to hold those responsible for violence accountable so we do not lose another community member again.
As a part of our call for increased communication, accountability and transparency, we are hosting a Town Hall meeting with community members, organizers for police accountability and Newton Division Police Captain and officers. We are committed to ending all shootings, increasing dialogue and finding solutions towards peace, justice and healing.
For more information, please call (213) 290-6638 or (323) 816-9651, or email at info@laurala.org
Reunión Comunitaria
jueves 13 de Octubre, 2016
6:00 pm – 8:00 pm
Fred Roberts Park
4700 Honduras Street
Los Angeles, CA
ver volante
Estamos entristecidos por la tragedia que ocurrió en la división de Newton del departamento de policía donde un oficial le disparo a un miembro de la comunidad el domingo 2 de octubre de, 2016, Y también estamos tristes por el trágico tiroteo donde un oficial perdió la vida a manos de un asaltante en Lancaster, el miércoles 5 de octubre del , 2016. Tenemos que trabajar juntos para obtener las respuestas que nuestra comunidad pide y para asegurar que las personas responsables por la violencia en nuestra comunidad, no puedan causarle daño a otro miembro de la comunidad.
Como parte de nuestro llamado en aumentar la comunicación, la responsabilidad y la transparencia, hemos organizado una Reunión Comunitaria con miembros y organizadores de la comunidad, el Capitán de Policía de la división de Newton, y otros funcionarios. Estamos comprometidos a poner un fin a todos los disparos, aumentar el diálogo y la búsqueda de soluciones para lograr la paz, justicia y la sanación.
Para mas información, favor de llamar al (213) 290-6638 o (323) 816-9651, o por correo electrónico al info@laurala.org